It's been a minute since our last monthly newsletter, and we're getting it back up and running, so you have one centralized place to see everything that we've shipped, published, and planned as well as what you, our fantastic community have been contributing in the past month.
We've been busy, so let's jump in! 
Gatsby Product Updates –
🚢🚢🚢🚢🚢🚢🚢🚢🚢🚢🚢
We shipped Gatsby v3.2, v3.3, and v3.4 which includes some notable goodies. In addition:
Serverless functions are now available on an experimental basis

, and creating a new function is as simple as creating a file in the src/api directory of your Gatsby site. Get early access to the future web and

trial it out

.
💩 happens, but now you can roll back deploys

automatically to the last working build.

This is only available for Gatsby Cloud users on the Performance Hosting Plan,

so go sign up for that

.

A new "Deploy Now" badge

, which enables any Gatsby site with a Github repository to be seamlessly deployed to the platform it was designed to run on, Gatsby Cloud.

Check out an example here

.

Enjoy faster JS bundling and lower peak memory usage

with our

latest performance optimizations

in the Gatsby framework. Less time staring at your screen, nice 👍

It's easier to find static image errors

because you can now see the offending code and a link to the relevant documentation. Another great reason to upgrade to our

latest Image Plugin

.
Gatsby v3 is the new hotness – Gatsby v2 going into "maintenance mode"
Starting on June 2nd, Gatsby v2 will enter Maintenance Support, meaning we'll only address critical and high severity bugs or patches. Putting v2 into a Maintenance Support mode will allow the team here at Gatsby to spend most of our energy and focus on building out Gatsby v3 – fixing bugs, shipping new features, and overall working towards the future. Click here to learn about upgrading to v3.
Gatsby Community Highlights – We see you, we love you.
Go deep diving on Gatsby with the Nattermob Crew Benedicte Raae, Ola Vea, Paul Scanlon, and their friends every Friday on YouTube as these Gatsby super-experts cover super-helpful how-tos. They're lovely humans with much talent and know-how to share.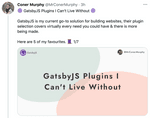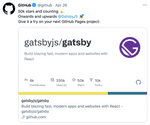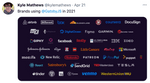 Content Roundup – Brainfood, but for your Gatsby site.
Gatsby Cloud goes head to head with a leading Cloud provider to answer, "Where's the most performant place to build and deploy your Gatsby site?" Bonus metric: we also tested who is "greener." Gatsby Cloud wins (crowd goes wild!), but check the numbers for yourself.

Follow Gatsby engineers as they optimize our homepage, showing you details of each step as we strive for the elusive 100 Lighthouse score. This is "news you can use."
Learn how to squeeze performance out of your 3rd party scripts and harmonize the relationship between devs, who want performance, and marketers, who also want performance… plus a bunch of analytics stuff that normally tanks page speeds. We can all get along!
Moneygeek got a buttery smooth mortgage calculator and green Lighthouse scores ahead of June's Core Web Vitals update by working directly with the Gatsby Team in our Concierge Service. Check out how it all works in practice, or at least steal a few good ideas for your project.
Upcoming Events – Meet the Gatsbytes, we'll teach you stuff!  
Livestream | Learn Gatsby with Megan on May 12th
Boost your Gatsby XP by joining Senior Software Engineer Megan Sullivan and Solutions Engineer Generosa Glitton for the first session of an Intro to Gatsby workshop. In the coming weeks, she'll guide you through building your site from scratch, and you'll learn core Gatsby concepts like plugins, GraphQL, and creating pages programmatically. Click here to put this livestream on your calendar, and here to follow Gatsby on Twitch.
Webinar |  Driving More Revenue with Headless Shopify on May 20th
Performant and engaging storefronts, more sales revenue, faster development? The e-commerce dream is real! Join Jack Sellwood, Senior Product Manager, and Dan Giordano, Senior Director of Product Marketing, share the next evolution in Shopify storefronts. Click here to register. And before you ask, everyone who signs up gets a link to the recording =]
Virtual Conference | Jamstack Toronto on June 3rd
Join us at the Click/Deploy event hosted by Jamstack Toronto as Gatsby Co-founder Kyle Mathews will be speaking alongside many others you'll recognize in the Jamstack community — You don't want to miss it!
Gatsby Camp | TBA on June 8th

Details to follow, but be sure to save the date and follow Gatsby on Twitter to learn as soon as the news breaks. In the meantime, enjoy the mystery. Savor the suspense.
We hope you enjoyed the latest edition of our rebooted newsletter. It's an exciting time to be a part of Gatsby as we continue to make it better for you, our users. If you have any suggestions on how we can improve this newsletter, hit reply and let us know. We read everything and we appreciate the feedback!

Happy Building 💜