Gatsby Concierge
Professional Services for Gatsby
Optimize your site performance and ensure a smooth production experience with your own personal concierge service for your Gatsby site.
Pick a challenge. We've got you covered.
Performance Concierge

Get an audit into the performance of your website, partnering with Gatsby to build the fastest, smoothest web experience
Performance
Builds Concierge

Optimize build times of your website with the help of an audit and remediation plan from the Gatsby experts
Builds
Onboarding Concierge

Designed to accelerate Gatsby adoption with best practices and live FAQ sessions, Onboard your team with expertise
Onboarding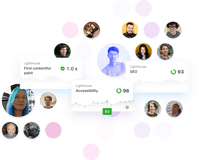 When Gatsby Is Critical To Your Success, Gatsby Concierge Is Here To Help.
Partner with our team of experts to optimize, support, and ultimately build the best Gatsby experience. Whether you need help with your build times, website performance and slow loading times, or would feel more confident onboarding with the help of a professional team, there is a Gatsby Concierge program for you.
Dedicated support and training for the entire team
Professional

Support
Get support when you need it the most with firm SLAs and actual answers
Quarterly

Audits
Check in quarterly against baseline tests and make sure your team is headed in the right direction
Hands On

Training
Learn the fundamentals of Gatsby's technology in a live session, including Q&A, hosted by our team
Let's Chat
Learn More About Concierge Today
Let's schedule a time to discuss your goals and challenges and how Gatsby Concierge can ensure your success. Simply fill out the form below and we will be in contact shortly.