We're in uncertain times. Even for SaaS.
Economists are worried that a possible recession is on the horizon, with inflation recently reaching 9.1%, a 40-year high. What's more, the stock market is down 20% from last fall, which is nothing to say for those crypto you probably should have dumped months ago.
What does this mean for SaaS organizations? A historically inflation-resistant industry, tech companies everywhere are aggressively slimming down to avoid further decline, tightening marketing budgets, and conducting waves of layoffs, the likes of which we haven't seen in a while.
While dealing with economic uncertainty is grueling, SaaS marketing departments have one clear response: do more with less.
 Evolve your website into a lead generation machine by migrating to solutions like Gatsby.
What SaaS Marketing Departments Need To Do
Marketers must invest in their most important asset when marketing budgets are trimmed.
The website.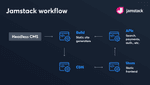 Giving Marketing teams more control over their website starts with investing in a website built on Jamstack, composed of a headless CMS solution and a frontend framework like Gatsby.
Not only do Gatsby websites perform better, but being detached from the content repository that is the headless CMS opens up many opportunities for marketing teams that monolithic solutions cannot offer.
We'll dive in deeper in a second.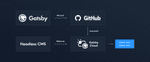 How Gatsby Improves SaaS Marketing
At Webstacks, we help companies succeed by improving their technology. To us, efficiency means agility — being able to move quickly and when necessary, do more with fewer resources. In our experience, we use GatsbyJS — and recommend it.
It Optimizes Content Workflows 
What matters most to SaaS marketing teams? Quickly sharing crafted product messaging in many media formats to stay relevant and personal with their followers. 
And to stay ahead of the competition during trying times, SaaS marketing teams need to launch and iteratively improve new digital experiences rapidly. SaaS organizations that choose Jamstack are miles ahead of the competition.
A headless CMS architecture lets content teams create more net-new content and experiences faster since they don't have to lean on an engineering team. Content teams publish more net-new content and experiences that better inform audiences.
What role does Gatsby play? A Gatsby website will deploy all the digital experiences created in seconds. Gatsby is renowned for blazing publishing times and page load speeds – and it's why content editors like myself are sold on the framework.
Because Gatsby is pushing to better market to content editors, the new Gatsby update has made content updates even faster! Thanks to the new Gatsby update: incremental deploys for all builds, content updates typically deploy in five seconds for all Gatsby sites.
This content workflow is possible with the right technology and allows teams to be more agile when markets and customer wants, needs, and expectations shift, as they have the last few months. 
Ultimately, this is doing more with less.
Gatsby Boosts Website Conversions & Performance
Since 2015, Gatsby has made improvements to stand out from its fellow front-end competitors. One ongoing debate is Gatsby vs. Next.js. Why should SaaS marketing teams care about this?
True to their vision of introducing new ways to improve performance, Gatsby introduced features allowing teams to choose page rendering methods for every page. A purely static (SSG or DSG) page will, in most cases load faster than an SSR page and have better SEO (Search Engine Optimisation). From Gatsby 4 onwards teams have the option of SSG/DSG and SSR pages. In both cases, both could also utilize Client Side Requests (Gatsby Functions), but this might have an adverse effect TTI (Time to Interactive).
It's proven that faster page speeds result in a better conversion rate.
WaveDirect, a Canadian internet service provider, used Gatsby to double their page speed and 4X their lead volume. What started as a project to better profile website visitors to build concrete customer journeys led to a website redesign that improved performance.
Gatsby Supports an Iterative Approach
It's time to move fast – but the only way to do so is by simultaneously adopting an iterative approach to marketing. 
Iterative marketing is the practice of building, refining, and improving a project, product, or initiative over time. Teams that use the iterative development process create, test, and revise until they're satisfied with the result.
But SaaS teams need the technology to carry out these processes. By giving them the essential tools, teams do work they're proud of – quicker.
Projects that take months to complete take mere weeks with Gatsby (one agency launched its entire website in three weeks). This boost in efficiency and speed means more net-new marketing assets, experiences, and iterative test variants for constant experimentation and improvement. Oh, that agency? They doubled conversions and made their clients millions in three months.
And all of this allows for more informed, decentralized, and faster decision-making, which reduces risk, which is what everyone's looking to do right now.
Our Favorite Gatsby Websites
Webstacks has helped launch several Gatsby websites for SaaS clients in many industries such as Blockchain, FinTech, and EdTech using an integrated website team approach. 
Teams ultimately transition from an all-in-one solution to a Gatsby or headless-powered site to empower content editors to build faster digital experiences, increase the overall performance of their marketing site, and collate these digital experiences with their design system to promote brand consistency. Read some of the success stories of teams who have had major success with their Gatsby website.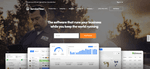 ServiceTitan
Before migrating to Gatsby and Contentful, ServiceTitan struggled with increasing page speed, giving content editors autonomy to build pages, and integrating its sales and marketing tools. After migrating their site, they immediately experienced 10x in page speed, providing their website visitors with an unparalleled UX experience.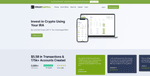 iTrustCapital
The leading digital asset IRA trading platform knew WordPress was not the ideal solution to keep up with the team's content demands. iTrustCapital migrated to Gatsby and Contentful to remain competitive in the booming crypto industry.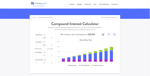 Moneygeek
The team at Moneygeek knew they needed to provide a memorable user experience on multiple devices – performance was another key consideration before turning to Gatsby. Moneygeek used Gatsby to supercharge their SEO and drive inbound search traffic leading up to Google's Core Web Vitals search update while spending $0 on paid marketing.
Parting Thoughts
If a recession is likely to happen in the future, then adopting technologies like Gatsby to yield more value while doing less will certainly prepare SaaS teams. Those who want to take action should:
Think twice before cutting the website budget.

Adopt Jamstack, building a Gatsby website.

Reach customers and prospects faster through immersive digital experiences.
It's time to think long-term and not make impulsive decisions that you'll regret later.