Today we're excited to share Incremental Deploys for All Builds on Gatsby Cloud. With this release, Incremental Deploys now powers Branch, Pull Request, and CMS Preview builds. Content editors will love how quickly they're able to launch new content since the time to publish is over 10x faster—even on large sites.
Developers and marketers choose Gatsby for their most performance-critical sites. As these sites grow, the time it takes to publish content increases as the number of pages grows. Gatsby 3 first tackled this problem and made data updates up to 10x faster. Even with Incremental Builds, large sites on Gatsby Cloud could still publish content more slowly than smaller sites. In fact, for some of the largest sites on Gatsby Cloud, it could take 30-60 seconds to deploy content changes—even if the initial incremental build was less than 30 seconds. This effectively doubled (or tripled) the time to publish for large sites.
Now with Incremental Deploys, both the build and deploy steps are incremental. When an editor makes a content change in their CMS, only the pages and routes that have changed will be updated. For a large site like gatsbyjs.com, publish times that used to take 40 seconds now take an average of 2 seconds. Across all sites on Gatsby Cloud, time to live for CMS changes decreased from 66 seconds to 4 seconds.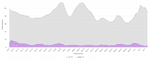 "Incremental Deploys have been a dream for deploying Gatsby sites. Making just the necessary changes and being able to deploy those means more valuable time saved for Gatsby developers and content editors," said Dustin Schau, Gatsby's VP of Engineering.
A recent third-party study of Gatsby Cloud noted the incredibly fast build and deploy times that users of Gatsby Cloud experience. Alex Barashkov, CEO of PixelPoint noted that "the results for Gatsby Cloud are quite similar to what I see running builds locally on Apple M1 chips, which is insane." This data was gathered before Incremental Deploys was available, and we're thrilled to continue making Gatsby Cloud the fastest way to publish decoupled content on the web.
Incremental Deploys currently powers all CMS Preview builds and is available in beta for Branch and Pull Request builds—Gatsby 4 required. Head over to gatsby.dev/inc-deploys to upgrade!
Have any questions about the Incremental Deploys? Reach out to me on Twitter (@jackonawalk) with your comments.