Good news! In May 2020, the Gatsby team is doing a second series of Gatsby Web Creators, our free video livestreams on creative web fundamentals for curious people aged 13 and up. We'll pick up where Series 1 on HTML, CSS, and JavaScript left off and build up the skills necessary to build your first Gatsby site.
Starting on May 8 and running every Friday through the end of the month at 10am PT / 1pm ET, the Gatsby team will spend an hour live coding the basics of JavaScript on Twitch. Video archives can also be found on YouTube.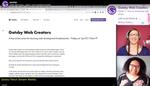 In Series 2, we'll begin with an artistic approach to browser JS, fetch resources from web APIs to display in a UI (likely dog related…), introduce Node.js as a server-side tool, and move into React.js and Gatsby to round it all out.
It's ambitious, but creative task-based lessons should give viewers the knowledge and skills necessary to dive into modern, accessible web scripting.
Participation is easy: follow us on Twitch or catch the video archives on Gatsby's YouTube channel.
The up-to-date schedule and list of resources for each session can be found on the Gatsby Web Creators page.