Gatsby for Marketers
Finally, a Jamstack solution with Marketers in mind
Gatsby gives you the fastest site performance to help boost Lighthouse scores and impact your organic traffic.
Make your website a revenue generating machine by increasing conversion rates and sales with a faster, smoother site visitor experience.
Source content from any CMS, use any React component or third-party service, load any size image or media to build a delightful, amazing digital experience.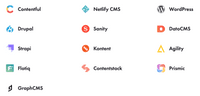 Integrate Gatsby with your favorite CMS of choice
Gatsby's unique approach to data makes integrating any CMS or API into your website an absolute breeze. You can even use multiple data sources side-by-side. If you've ever thought "I'd love to have an integrated blog, marketing site, or documentation site and do more with my website" - then Gatsby is for you.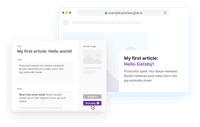 Intuitive content creation for the Jamstack
Get a native content creation experience with nearly any CMS on the Jamstack. What does that mean? It means Gatsby enables marketers to create previews of their drafted content, share unlimited staging sites for feedback, and have instant publishing.
Optimized for results
Gatsby gives you a fast, flexible, and fun frontend that will drive up visitor engagement rates, Lighthouse scores, and allow your marketing team to dream bigger.w
Get started in minutes
Launch your Gatsby website in Gatsby Cloud for the optimal experience.