Gatsby Cloud Enterprise
Content Publishing without Compromise
Get the best Gatsby experience with high-powered infrastructure, first-class support, and performance that scales to fit the needs of the world's largest companies.
Enterprise Builds

Premium infrastructure and resources that intelligently parallelize processes to ship even large changes fast.
Enterprise-level Security

Built on top of Fastly's award-winning Edge network, Gatsby Cloud provides SOC 2 Type II compliance, HTTPS/2, free SSLs and more.
Global Performance

Maintain a competitive edge in a world-wide market with expanded access to Fastly's international Points of Presence (POPs).
Ship Faster
The benefits of static without the tradeoffs
Gatsby Cloud's innovative platform allows enterprises to build rich, content-driven sites in just a few seconds, serve traffic to millions, and create unforgettable, dynamic experiences around the globe all while maintaining the performance, accessibility, and SEO benefits that static sites are known for.
Enterprise-level Security
Protect your company's data
Gatsby Cloud is safe, secure, and SOC 2 Type II compliant. Your website is the front door to your company online. Gatsby Cloud protects you by serving your static site on a secure Edge platform, keeping you safe from malicious attacks and hacks.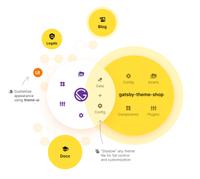 Streamline your workflow
Mortar for all your digital bricks
Whether it's your marketing site, documentation, landing pages, or your careers page — you can bring your entire digital footprint to Gatsby while still using specialized data sources and best-in-class observability tools like Datadog. Keep WordPress for the content team and markdown for your developers but maintain the speed, sophistication, and security of a Gatsby website.
Everything You Need To Run Gatsby At Scale
Enterprise Builds
Premium build environments that intelligently parallelize critical aspects of the build and deploy process to help you publish even the largest Gatsby sites with unmatched speed.
Unlimited Users
Get the entire team involved building more sites by giving access to developers, content creators, marketers, and anyone who needs it.
SAML & SSO
Make access management easier across large organizations by connecting Gatsby Cloud with your SAML or SSO of choice.
High-Traffic Bandwidth
Never again feel the crunch of having too many visitors take down your site.
Global Points of Presence
Our Global Edge Network boasts over 30 points-of-presence (POPs) all around the world, giving you the reach your brand needs.
Quarterly Performance Audits
Get a deep-dive from Gatsby Concierge's experts and fine tune your site to optimize your site's build time and performance.
Professional Services and Support
Expert help and first-class support
Gatsby Cloud Enterprise also offers professional services and premium support, so you'll have the experience and expertise of Gatsby engineers helping you migrate, build, and optimize your website.