Use Cases - Technical Documentation
Documentation that developers love to build and consume
Selling to developers? Your documentation is the growth lever for your business. Create a fast, secure, and rich documentation experience with Gatsby.
Modern Developer Experience

Leverage the power of the latest web technologies including React, Webpack, GraphQL, modern JavaScript, and more to power your headless CMS journey.
Faster Builds and Performance

Gatsby bakes in best practices for website speed, such as code splitting, prefetching resources, lazy-loading, and more.
Optimized For SEO & Marketing

With great SEO tools and Google boosting fast pages in search results, Gatsby helps you rise towards the top rank for terms that matter to you.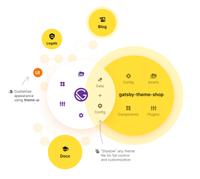 Write Your Docs The Way You Want
Create intuitive, world-class documentation sourced from markdown, a database, repositories, or even a CMS. Even use multiple data source at once. Gatsby offers the best composition tools for developers who love React - embed feature-rich code blocks, autolink section headers, and more all with just a little markdown.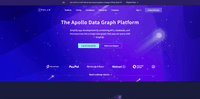 The Fastest Documentation Experience On The Web
Build statically-generated documentation in just seconds, even docs written in MDX. Then deploy it and serve it to your global audience in just milliseconds with Gatsby Cloud. Gatsby has performance optimizations out-of-the-box to help you delight internal or external developers, designers, and anyone else consuming technical documentation.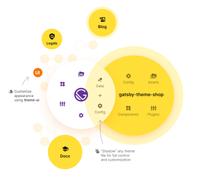 Flexible
Unify Your Documentation With Marketing, Commerce, & Other Data Sources
Powered by GraphQL, Gatsby's data layer makes it incredible simple to source content and data from other CMSs or service so developers can build integrated and unified documentation experiences. Build powerful tutorial style documentation, bring in Swagger or Postman definitions, and more - all with a fast frontend powered by Gatsby and Gatsby Cloud.
Gatsby Use Cases
See how companies around the world use Gatsby for documentation
General Documentation
Delight your end-users with fast, intuitive, and interactive documentation. A better developer experience is simpler with Gatsby.
Tutorial-Driven Documentation
Create interative tutorials to gamify your user's learning and create an online educational environment.
Open Source Documentation
Collaborate with a broad community and document open source projects with different content sources all with one Gatsby frontend.
Internal Knowledge Bases
Level up your hiring process! Onboard new engineers and share knowledge with intuitive, well-written internal documentation.
API Documentation
Import your API definitions from Swagger, Postman, or other API specs for easy endpoint consumption.
Design Systems
Highlight content and editorial standards, guides on color, animation, and typography, or share release notes and contribution guidelines
Gatsby Cloud
Ready to get started?
Get started building, previewing, and deploying your website in minutes.