Customer Stories
LaunchDarkly's Headless Gatsby and Prismic Site
LaunchDarkly helps development teams fundamentally change how they deliver software by offering them powerful feature-flag platform that can be used for a/b testing, canary rollouts, and more.
Woolly Mammoth helps share this story with an amazing website driven by Gatsby and Gatsby Cloud.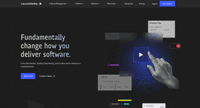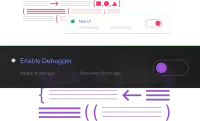 The LaunchDarkly Story
In April 2020, Australian web design and development agency Woolly Mammoth began working with client LaunchDarkly to revamp their website. The existing LaunchDarkly website relied on a number of different technologies and platforms over the years, and had built the site in a number of different ways. While an old version of Gatsby was under the hood, it offered no connectivity to a CMS or configuration for dynamic content or routing. The site used JSON, Markdown, had hard-coded copy and locally hosted assets, while the blog section lived on subdomain and was powered by WordPress.
What was LaunchDarkly looking for?
Blazing fast page load speeds

Increase site responsiveness

Wanted to use modern technologies

Easily integrate with current tools

Faster publishing process

Friendly for non-technical teammembers

The Challenge
The Woolly Mammoth team's first challenge was moving the marketing content into a CMS, lowering the amount of tech deck across the LaunchDarkly marketing products and fully harnessing the power of Gatsby and Jamstack. This was completed with the aim of rolling out a completely new UI in sync with LaunchDarkly's 2021 brand refresh.
LaunchDarkly wanted a website that was more robust, offered more uptime, and had an improved user experience for their customers.
This was in addition to a desire for overall enhanced performance, improved search engine ranking, and the need for a site that was attractive, polished, and professional to match the quality of their service."
"What can I say? Sam and team are the best in the business. Technical know-how with a keen business acumen is what makes Woolly Mammoth special," says Jay Gandhi, Senior Director of Marketing Operations at LaunchDarkly. "Together, we've tackled a redesigned blog, redesigned homepage, and an entire website launch. We couldn't have done it without them! They've been extremely reliable, accountable, and professional, and you won't find a better partner."
Solution
In working on the new site, Woolly Mammoth's first port of call was to upgrade Gatsby and to configure it to use its full potential so they could improve the reliability and robustness of the website out of the gate.
Next on the list was a CDN that would improve build speeds and increase uptime - Woolly Mammoth opted for Gatsby Cloud for this purpose.
The existing blog used WordPress and lived on a subdomain, the team decided that Prismic was a better option for the client's needs and allowed Woolly Mammoth to simplify their marketing tech stack to run solely on a Gatsby-powered JAMstack architecture.
"The blog was in WordPress, but we opted for using Prismic instead; partly in the hopes that we could eventually use it throughout the site," says Sam Logan, Founder of Woolly Mammoth. "So naturally, we also took advantage of the new Gatsby Source Prismic plug-in."
Once the blog section had been migrated from WordPress to Prismic and Gatsby, the next priority was rolling out LaunchDarkly's new brand and completely refreshed website. This needed to be completed within a two-month period to align with LaunchDarkly's series D funding round. This gave Woolly Mammoth and the LaunchDarkly team the opportunity to remove all JSON and markdown dependencies and use Prismic for all content. They used the latest versions of Gatsby and the Gatsby Source Prismic to source data from multiple Prismic repositories and use Gatsby Cloud's preview environment for previewing new content changes.
Why Gatsby?
As market leaders in the JAM stack community, Woolly Mammoth are no stranger to the Gatsby Framework. It is the backbone to many of the projects they are the most proud of. Gatsby offers unparalleled service, documentation and support for developers - so it is always their first pick for website builds.
In particular, the vast plugin library, production build speeds and dynamic routing are cornerstones of what makes building with Gatsby so smooth.
LaunchDarkly was looking to improve upon the lengthy build and deploy times that they were seeing with their existing website. According to Sam Logan at Woolly Mammoth, they originally hosted the site on Amazon S3, then moved to Netlify, where they then were seeing build times from 30 minutes to an hour.
Upon moving to Gatsby Cloud, they initially saw build times drop to 11 minutes using Gatsby 2, then to 4 minutes for a cold build and 1 minute for a warm build. Now running on the Gatsby web framework and hosting with Gatsby Cloud, LaunchDarkly is seeing 42 seconds for incremental builds and 5 second deploy times.