It's not every day you come across a partner of an award-winning, full-service law firm who is as technologically inclined as Bill Henry, one of the two managing partners at 145-person, Colorado-based law firm Robinson & Henry, P.C. For Henry, keeping up with the latest technology isn't a "nice to have," it's a "need to have"—considering 95% of their firm's clients are generated through the web. 
"Our online presence and marketing is the most critical avenue that we have. I would say practically every single one of our clients at some point visits our website before they hire us," mentions Henry.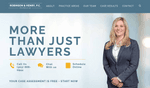 Over the last decade, Robinson & Henry used content marketing and SEO to grow their organization from a small team of 3 to a team of 145. Their scale and efficiency is almost unheard of in the personal law world—they've become one of the largest personal law firms in the state of Colorado. 
On a weekly basis, the firm receives 800 prospective clients contacting them from their website, in which half will talk to an attorney—resulting in 20% converting to paying clients. The firm publishes content on a daily basis, and today, their site boasts over 5,000 articles. 
Having a keen interest in keeping up with the latest happenings in the world of React—Henry came across Gatsby when he was conducting his own research into a solution that would not only drastically improve their Lighthouse scores, but one that their marketing team would want to use.
Adding 40+ Lighthouse points and increasing traffic by 26%

"We knew we had to move on from our old WordPress instance as we were constantly facing some integration issues," states Henry.

We'll cut to the chase; immediately after implementing Gatsby, Robinson & Henry's Lighthouse scores jumped from 46 to 90! 
"Improving our SEO was the primary driver for us and Gatsby delivered," states Henry. 
Today, Robinson & Henry is driving an impressive 60% of their website traffic from their SEO efforts alone! This was key for their firm as they serve a niche market of those seeking high quality legal representation, but not knowing who to turn to. 
"These folks typically won't know inside general counsel at major companies that are going to make referrals. They don't know attorneys. They're going to turn to the web to find their answer." 
"In the last three months alone, Gatsby has allowed us to drop our bounce rate by 50% which is in line with the responsiveness of the website going up and increased our users by 26%. Having a fast-performing website is key to our success," exclaims Henry.
Not to mention, the firm passed their Core Web Vitals with flying colors!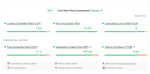 Gatsby Concierge to the rescue

"Purchasing Gatsby Concierge was the best decision we could have made," mentions Henry.

"I'll be honest, I knew Gatsby Concierge wouldn't be cheap, but it was a worthwhile investment. Having Grayson [Hicks] from your team as our main point of contact helped immensely with not only learning best practices, but helping us overcome the major hurdles one faces when transitioning an old WordPress site that was created back in 2010. He set us up for success."
Hicks also helped Henry evaluate the quality of the work he was getting from the agency he had hired.
"I can evaluate lawyers and paralegals—but it's nice to have an expert in the field vet the development team for me," laughs Henry. 
With Hicks' help, Henry broke the project into manageable chunks—starting by moving the frontend over, then changing the design, then doing further performance optimization.
We asked what Henry's budget had been when he invested in a refresh with Gatsby, coupled with our Gatsby Concierge service, and he responded thoughtfully with; "It's really more about the value that's being driven." With 95% of their new clients coming from the web, it certainly is.
Customer service starts with a client's first website interaction

Henry shared some with us some words of advice for others in similar situations that are considering a website rehaul;

"You have to be prepared for some pain when you make massive changes to a website with 5,000 pages on it. But at the end of the day, you have to be willing to take big risks if you're trying to outpace the competition. We recognize that we're in the customer service business—and for us, the customer experience starts with a client's first interaction on our website."

We couldn't agree more!