Today, Gatsby is thrilled to announce a new Agency experience!
We've met over the past few months with many of our Agency Partners to learn how we can better help them ship and maintain Gatsby client sites.

What have we learned so far?
→ We learned that Agencies have created their own workflows to manage Gatsby site ownership, usage limits, and billing between internal teams and external clients, both during development and in post-project maintenance mode. We're working on a smoother Agency <> Client Site Transfer process.
→ We learned more about how often Agency users work on and maintain sites across multiple workspaces for different teams and clients. We want to enable higher-level visibility and collaboration across multiple workspaces in our Gatsby Cloud UI.
→ We also learned that successfully creating lots of client sites requires access and role coordination across different types of internal users who specialize in different things like design, engineering, and content editing. We want our user access and role provisioning tools to work at both a higher level (across multiple workspaces) and at a more granular level (multiple roles within a workspace).
Very exciting, right?!
What we're releasing today is the first version of our Gatsby for Agencies Plan, with more flexible limits for agencies to get even more done with Gatsby.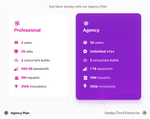 Check out the new plan (gatsbyjs.com/pricing) with much higher feature limits, and stay tuned for Agency product updates: Site Transfer and multi-workspace features coming soon!
Do you have feedback for how Gatsby can work even better for Agencies?
Would you like to show us how your Agency makes Gatsby work for client projects? Do you have opinions on anything we mentioned above? We would love feedback on how we can improve! You have multiple options available:
Don't forget to check out all the other exciting Gatsby product news from Launch Week, tag our main Gatsby account on Twitter (@GatsbyJS) with your thoughts, or reach out to me specifically on Twitter (@productbits) if you have any additional questions about our new Gatsby for Agencies Plan.