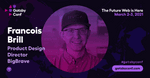 We caught up with Francois Brill, director of product design at BigBrave, for a wide-ranging chat around his thoughts on the future of Jamstack and ways to keep pushing our creative personal horizons with technical work. Don't miss his GatsbyConf talk, "Using The Power Of Gatsby To Create A Network Of Blazing Fast Websites," to learn earn how to build out complex systems at scale — with a single Gatsby code base powering multiple websites.
How did you come to start using Gatsby?  Is there anything you especially love about it? 
I come from a typical digital agency background, doing mostly client work, building client websites. We've traditionally done a lot of custom WordPress development. Towards the end of 2018 I decided to experiment with Gatsby to build out our new agency website. It was soooo fast, and I specifically fell in love with getting back to basics with designing and coding everything from scratch. Gatsby gives you complete autonomy to just focus on creating amazing experiences. 
What are your thoughts on the future of Jamstack? 
One key thing I've seen with Jamstack is that with great power comes great responsibility. We can truly create anything, but that also means we are responsible for everything that is on the page. Things like accessibility, core web vitals becoming key Google ranking factors means we have a lot of work to do to ensure we're producing work and websites that move the industry forward. 
Your talk describes using Gatsby in a configurable way to build complex systems at scale. This sounds a lot like Cloud Native architecture, with Gatsby acting as an orchestration layer. Could Jamstack be described as Cloud Native for the front end? 
This does make sense, although I've never thought of it like that before. 
Your presentation frames taking existing tools/tech and applying them in a different and innovative approach. How can we keep ourselves thinking differently about building websites? 
I started out as a designer, and always questioning and challenging the status quo is the heart of a designer's work. I always love getting back to the basics of Design Thinking where Innovation is something that happens at the intersection where a project is technically feasible, viable from a business perspective and ultimately desirable as something that users want. The best way to Keep "unlearning" to keep yourself unbiased to challenge yourself.
Talk a little bit about why you created Flexibility, and how it fits with Gatsby?
As an agency we've created 30+ Gatsby sites. I love the experience, but it takes a lot of time and investment. Flexisite was born from the desire to centralize the hard part, the parts that are repeated in each project we build. There is a specific market that it serves, and the results have been astounding. It takes a typical delivery of a website from 4 weeks to 4 hours.   
What excites you about this space right now? Where do you see things going next?
We need a better CMS solution. WordPress has played its part, especially from a client's perspective as it's something that clients are familiar with and like using. But updating content, previewing content changes, aren't yet truly solved in the Jamstack. My gut feeling is that we need to take a headless-first approach to content management to handle all of these challenges first. I know there are copious amounts of CMSs that are trying to do this out there, but I feel like this space does not have a clear winner yet.
Ready to hear more? Register for GatsbyConf — two days of speakers, workshops, and some really cool launches and announcements. And don't miss special event Gamer vs. Gatsby. Watch live as David Livingston, a.k.a. Kosmic, tries to beat his world record Super Mario Bros speed run time of 4:55 while Gatsby engineer Kyle Gill races to spin up and deploy a live site! Thrills! Chills! Free and virtual, March 2-3, see you there!