Making a career change can be stressful and difficult. When you've dedicated so much time to one thing, it can be hard to break into another field. So how do you combat being pigeonholed into one narrow role? Thanks to my own varied career I've figured out a few things that can help. I learned how to go from a small, family owned business to managing a multi-million dollar budget at a Fortune 100 company to leading a marketing team at a fast-paced tech startup. Here's my story.
I don't remember the first time I picked up a flute, but I do remember my first summer of music lessons. I was 10 years old and was already fully and completely in love with the flute. Everything about it spoke to me — the silver beauty of the instrument itself, the challenge of learning how to make a pure clear sound, the gracefulness inherent in moving my fingers across the keys, and the joy of learning to read music. I loved it all. With my new obsession, and lots of practice, I excelled quickly and within a few years was performing regularly in school and with friends. I went on to get 2 degrees in music (flute performance) and moved to Boston to work at a flute factory. I'm an absolute flute nerd and proud of it!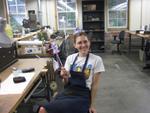 Working at a flute factory was fun, but unfortunately it was not lucrative. Over time I began to realize that classical music and flute making, as much as I loved them, were not a sustainable long-term career path for me. I considered my other interests and talents and decided to switch my focus to a career in business and technology. What experience did I have with business or high tech? Absolutely none. But I was curious, loved learning new things, and wanted to be part of developing new technologies.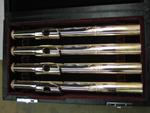 I decided to go to business school. This approach is not necessary for everyone wanting to make a career switch but, for me, it was the easiest and quickest way to get where I wanted to go. Getting into business school was a challenge. I hadn't had a math class in over 10 years and I needed to take accounting, economics, and statistics as prerequisites. I took the GRE (standardized test) that was required for business school and did OK. I studied for the next 4 months and took the test again, only to do WORSE than the first time! Despite that setback, I was able to get into a decent business school.
Once I got there, the learning curve my first semester was steep. I failed my first accounting test. I struggled in other ways, too. I had serious impostor syndrome. Most of my classmates had 'regular' jobs before school. I kept having to explain myself and why my past work at the flute factory was relevant (understanding high-end manufacturing practices has a direct business benefit). I didn't fit in with my classmates and I was a bit intimidated by the heavy analytical aspects of business finance, but I persisted anyway. I decided that even if it was possible that I might fail out of school, I wouldn't count myself out if others were still giving me a chance. Don't accept defeat when you haven't lost yet!
I refused to quit, kept studying and was able to turn things around. I became a teaching assistant in the finance department and ended up getting A's in most of my classes. After completing my degree I landed a finance job at Cisco. I went from making flutes at a small, family-owned company to tripling my salary and managing a multi-million dollar budget at a Fortune 100 company. 
And, along the way, I learned a few things that I would like to share.
When you don't fit the mold
I felt out of place in business school and at my first job, but then I realized that most people don't fit any particular mold. How refreshing to learn that almost everyone is more than they seem at first! Our individual depth of experience and interests set us apart and make us each unique. Embrace that. Celebrate it. I found that when I was authentic and honest with classmates and coworkers, they embraced it.
It's not about you (most of the time)
Many months ago, I had a really hard day at work. I had just gotten off a call with my manager that didn't go well. I left that meeting frustrated and depressed, feeling under-valued, under-appreciated, and misunderstood. I had to immediately jump into a video call with a customer so I put on a happy face. This customer was in a great mood because he excitedly announced that he would be a new dad soon! He shared the ultrasound image of his tiny son, about 12 weeks in utero. I was happy for him. And I was sad for myself, having had a miscarriage a few months earlier. My fetus was around the age of the image he showed me on screen. I turned off my video so he couldn't see the tears in my eyes. Of course, it had nothing to do with him. It was just one of those days. 
Which brings me to my next point: when a coworker or manager is being rude, demanding, impossible, or just annoying, it's not about you! (Unless it is. But usually it's not). It's been so helpful for me to realize that other people's anxiety, rudeness, anger, and frustration is more about them than it is about me. Just like my bad day with my manager and jumping on a call with a customer, my reaction to his news was filtered through the lens of my experience that day. It really had nothing to do with him. Thankfully, I was able to keep it together on that call so he didn't notice my distress. So if you're working with difficult coworkers or clients, lead with empathy and try to understand their perspective. Ask clarifying questions to learn more about what they're asking or why they might be frustrated before jumping to conclusions. 
Advice for career changers
Know your strengths. If you don't, follow your interests and give things a try until you do! When I decided to change careers, I didn't really know what I wanted to do next. I chose the tech industry because I was interested in it.  I ended up in finance because it intimidated me and I'm not one to back down from a challenge. After a few years working in finance, I realized I was feeling the lack of more creative aspects in my work. Going from flute making to finance had been a big leap from incredibly creative to very analytical. But, in my initial career leap, I had over-corrected and needed to work my way back from the purely analytical to a role with more flexibility and creativity. So I transitioned to a marketing role and was hooked.
I finally found my career of choice, even though I took several years and a circuitous route to get there. But who knows, maybe you'll see me doing something completely different in a few years — a board game creator, author of a memoir, or animal sanctuary caretaker? I am a nerd, after all, and nerds are amazing.