Today, we're excited to announce a new partnership with Shopify that makes it easier to build your next storefront with Gatsby Cloud.
👉 Checkout Gatsby Cloud on the Shopify App Store
It's been a busy year for Shopify + Gatsby
Earlier this year we announced two releases to unlock the next generation of headless e-commerce with Gatsby. The new Shopify source plugin is 16x faster than before with support for incremental builds. Now you can build Gatsby + Shopify sites with 10x more products than before while still maintaining consistently fast build times.
For shop managers, they're now able to make edits to their product catalog and see changes deploy in seconds.
Attach Digital launched Root Houseplant using Gatsby's upgraded Shopify integration. Tom Hughes shared details of this project at GatsbyCamp.
Gatsby's upgraded Shopify integration makes it easier to set up our Headless Shopify sites. Webhooks are added automatically so we know everything is properly set up, reducing potential mistakes and the need to double-check things. It just works!

— Tom Hughes, Founder at Attach Digital
Starting today
Choosing Gatsby for your next online storefront guarantees performance longevity—your site will stay fast over time. Whether you're selling 10 products or 10,000, Gatsby delivers millisecond pages loads and PWA-capabilities so all your visitors (including those on the go) have a great experience discovering your products.
Today we're making it even easier to tap into headless e-commerce. Gatsby Cloud is now available in Shopify App Store to help you spin-up a Gatsby-powered storefront for your site in minutes.
Install Gatsby Cloud from the app store to quickly connect your Shopify store. Choose an existing project you've been working on or get up and running the Shopify starter in seconds.
For the first time, Gatsby Cloud is available as a sales channel to enable merchants to specify which products should appear on their Gatsby site. This means you can create omnichannel product catalogs and send different products to different channels.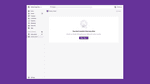 Finally, since headless storefronts might be new for some merchants, we've made it easy to access your production URL and build stats all from Shopify admin.
Sneak peek
Coming soon, CMS Preview will support Shopify, so shop managers can preview product changes before publishing.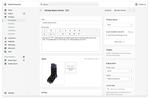 Stay tuned for the upcoming Gatsby + Shopify webinar where we'll deep-dive on how to get started with headless e-commerce.